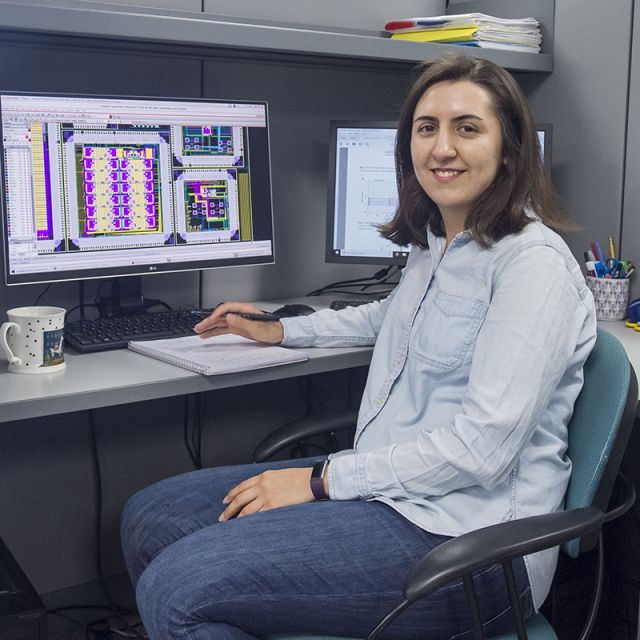 Featured Spotlight: Zahra Fahimi, Ph.D. candidate in ECE
(Interviewed 2019)
About Zahra
Hometown: Saman, Iran
Degrees: M.Sc. in Electronics from Isfahan University of Technology
Degree Sought from UCSB: Ph.D. in Computer Engineering (2nd year)
Graduate Study Area: Energy Efficient Neuromorphic Computing with CMOS-Integrated Memristive Crossbars
Group / Advisor: The Strukov Research Group / Professor Dmitri Strukov
Research Interests: Neuromorphic computing, neural networks for combinatorial optimization, VLSI design, hardware security
Dissertation: "IM3 injection technique for improving the linearity of RF power amplifiers"
What types of Financial Assistance have you received? Graduate Student Researcher (GSR) and Teaching Assistantship (TA)
Professional Memberships: Institute of Electrical and Electronics Engineers (IEEE) Member
Hobbies: Travel, dance, ping pong, and movies
Favorite things about
Your department: Top faculty, nice and friendly staff, ocean view
UCSB: World class, lovely, diverse, and fun campus
Santa Barbara: Great weather, beaches
Zahra and her research
Tell us about your research: The main focus of my research is the development of memristive/CMOS-integrated circuits for energy efficient computing applications and beyond. We are basically trying to build very energy efficient and scalable circuits for a variety of applications including but not limited to neuromorphic computing, hardware security, optimization, etc. Memristive devices are very promising candidates for implementing the next generation of analog computing circuits and systems in part due to their excellent scalability and compact structure.
In our lab, we are very fortunate to have access to the fabrication technology of analog-grade passive memristive devices which was indeed developed (in our lab) several years ago with so many efforts. Most importantly, I have taped-out a wafer-scale system in collaboration with several former colleagues who are now at NIST and I will begin testing it soon. I am also working on another project on designing very efficient VLSI circuits for addressing combinatorial optimization problems.
How and why did you get into your area of research?: After finishing my Masters in RF electronics, I decided to start working on analog low-frequency circuits and what fascinated me a lot was neuromorphic computing and neural networks. I did a lot of research and found analog computing with emerging devices delightful and intriguing. That is how it all began.
Why did you select UCSB and your department in regards to your research?: Where is better than UCSB? Such a fabulous and superlative campus with distinguished faculty. Our group is one of the best in analog computing and we have state-of-the-art technology to fabricate memristors. These were the main motivations for me.
What do you find rewarding about your research?: The most gratifying aspect of my research is that I am working on different design levels from simulations to tape-out and experimental tests.
UCSB prides itself on its collaborative atmosphere, give some examples of how you collaborate: Fortunately, my advisor is always available and very involved in all of the projects. He manages all the research projects very well and provides full supports in every aspect of the work. I am also very lucky to collaborate with teammates who are available 24/7 and take their responsibilities very seriously. We have outstanding, nourishing, and productive lab environment.
Thoughts on working in a group research environment and your experience working with an advisor: Working in our group keeps our motivations high. The signature of our group is that every morning, you wake up, and you truly believe that you have to do much better and try harder, because everybody is pushing the standards further and higher.  We work together a lot and we have people who are experts in different area and they all contribute to improve the research.
Where will your research take you next?: I like to keep my hopes high and I plan to enter industry after graduation.
Zahra's thoughts on the academics at UCSB
Strengths of the graduate program: The ECE department includes world-class and top-notch faculty and the collaboration between them is fantastic.
Favorite courses: My favorite courses were Communication Electronics (ECE 218B) and High-Speed Bipolar Mixed Signal & Communication IC Design (ECE 218C) with Professor James Buckwalter. The most prominent features of his classes are that he has a clear schedule and he teaches very well.
Your experience with the graduate exams: Most graduate students find the screening exam more like a screaming exam and they are always worried about it. It is indeed a tough exam and needs serious preparation. Having said that, I believe it is the best time to review and even learn important subjects which are often very useful and beneficial during research. The qualification exam is typically more straightforward. I had a great preliminary exam and I received very impactful feedback.
Describe your experience as a Teaching Assistant (TA) and Graduate Student Researcher (GSR): I have been TA for two quarters for Advanced Computer Architecture (ECE 154B). I was responsible for assigning projects, checking the labs, grading, and holding office hours. It was fun because it was simply different every day.
Life as a graduate student
Quality of life as a graduate student and how you balance school, work, social, and family life: It is a little bit hard to manage your time as a graduate student since you always have something to do. Sometimes I wish I had more than 24 hours per day. But I always try to spend at least one full day (usually Sundays) to take some time off and have fun.
What is your social life like and where have you lived while at UCSB?: I live in UCSB family housing which is a great place that values diverse cultures. In general, living in Santa Barbara is very enjoyable and peaceful because it is a small and quiet city. If you enjoy spending time in nature or you love surfing, Santa Barbara is a true heaven for you.
What do you do over the summers?: Last summer, I had a tape-out and I was designing a giant chip which I will be testing this summer.
Advice to prospective graduate students: UCSB is a tremendous place with lots of opportunities. Welcome and embrace them and you will have the best period of your life here.