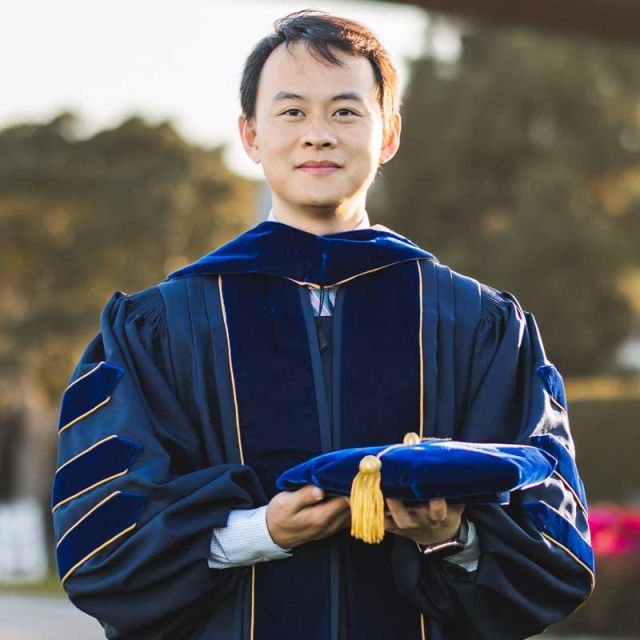 Featured Spotlight: Liu Liu – PhD student in Computer Science
In his own words – Interviewed during the 2022 year
Hometown: Ji'an, Jiangxi, China
Previous Degrees: Bachelor of Engineering, University of Electronic Science and Technology of China
Degree Sought from UCSB: MS in ECE, PhD in CS
Advisor / Lab or Group Name: Yuan Xie and Yufei Ding / Scalable Energy-efficient Architecture Lab (SEAL)
CS Research Area: Computer Architecture
Hobbies and Interests: Hooping, watching movies, and playing with my sons (for real)
Liu's Research
Main Area of Research: Computer Architecture
Research Interests: domain-specific architecture, systems for machine learning, software-hardware co-design
Important Conferences: International Symposium on Microarchitecture (MICRO), International Conference on Machine Learning (ICML), International Conference on Learning Representations (ICLR)
Important Awards & Honors: Peter J Frenkel Fellowship, The Institute for Energy Efficiency at UCSB; Grand Finalist, Association for Computing Machinery (ACM) Student Research Competition at MICRO 2021
UCSB Student Organizations: Chinese Christian Fellowship
Professional Memberships: Student member of ACM and Institute of Electrical and Electronics Engineers (IEEE)
Dissertation: "Elastic Processing and Hardware Architectures for Machine Learning"
Publications: Liu's Google Scholar
Favorite things about
Department: CS at UCSB has been growing over the years, with faculty members leading and innovating a wide range of research areas. The staff members are supportive and helpful, making students' lives easier.
UCSB: The scenic campus with great views of the Pacific Ocean and easy access to the coast.
Santa Barbara: Life is beautiful in Santa Barbara. It is away from metropolitan areas, great for study and research.
Liu and his research
Tell us about your research:
My role as a researcher in computer architecture is towards machine intelligence by vertical integration of applications, systems, microarchitecture, and technologies. My research includes efficient methods for Artificial Intelligence and Machine Learning (AI/ML), system support with emerging computing paradigms, and next-generation domain-specific architecture designs.
How and why did you get into your area of research?
I got attracted to the topics in computer architecture starting with a series of courses at UCSB, such as Advanced Computer Architecture: Supercomputers (ECE 254A) and Advanced Computer Architecture (CS 254). At first, it was fascinating to me how the building blocks like transistors and logic gates I learned from undergraduate studies form together into processors. Later, some of the advanced designs like the ingenious Tomasulo algorithm and many others from classic research papers motivated me to do research in this area.
Why did you select UCSB and CS in regards to your research?
UCSB is one of the leading research institutes in computer science and engineering. I selected CS to develop an interdisciplinary research program since my background from undergraduate and master's programs is more in electronics and computer engineering.
What do you find rewarding about your research?
Whenever I explained my research to my family and friends, they always got excited about things like AI hardware and ML systems and how these intelligent devices could change our lives even more. Of course, the products now have not much to do with me. But sometimes in the future, I would proudly tell them that some components in their daily-used devices are built upon my research work.
Thoughts on working in a group research environment:
I was fortunate to work in a large research group with many student/postdoc researchers and visiting professors working on a wide range of research topics. I enjoyed their discussions and appreciated their help on my research projects. Many times, when I was trying to talk about my research and learn what others do, insights were popping out. My best experience working with my advisors is when I was proposing new research projects, the encouragement and the visionary suggestions I got from them.
UCSB prides itself on its collaborative atmosphere, give some examples of how you collaborate:
I remember my first year as a PhD student, I was wandering around researching hardware acceleration for robotics, and my advisor Prof. Xie suggested that I proactively seek help from other faculty at UCSB, whom I had barely met. So I sent emails to many professors in both CS and ECE about my questions and concerns. They all scheduled meetings with me right away. Later, I got to know how busy a professor can be, and I appreciated, even more, their kind responses and help for a random student. I have also collaborated with industry researchers during summer internships. For computer engineering in general, and particularly for my research, it is important to seek domain expertise, e.g., from ML practitioners, when working on domain-specific architectures for ML.
Academics at UCSB
Strengths of the graduate program:
There are rich opportunities for research experience and a broadly-covered curriculum.
Favorite course:
One of my favorite courses is Advanced Computer Architecture (CS 254) taught by Prof. Tim Sherwood. If not for this course, I probably would not pay attention to those classic architecture research papers that appeared decades ago. Also, Tim's passion as a computer scientist working in architecture research motivates me.
Describe your Graduate Student Researcher (GSR) and/or Teaching Assistant (TA) experiences:
My GSR experience mostly involves reading papers, writing summaries, and coding/running experiments. Oftentimes, I talk about the findings and the insights with other students and advisors.
I was a TA in CS 130 and CS 16. I had TA sessions introducing topics not covered in lectures, as well as labs that helped students with programming assignments.
Life as a graduate student
Quality of life as a graduate student and how you balance school, work, social, and family life:
Talking about life as a graduate student, my biggest accomplishments have been achieved at UCSB: married in the 2nd year of my PhD, my first son was born after the 3rd year, and my second son was born right before graduation. The way I balance that works best for me is – family comes first, friends second, and school/work third. Besides, UCSB has plenty of resources for student parents, such as family housing, tuition benefits at the University's Children's Centers, childcare reimbursement as GSR/TA, and small grants by campus organizations.
What is your social life like?
I lived in Storke Family Housing, which is a great place to live that has a friendly and welcoming community. On Friday nights, I usually attend the on-campus gatherings by UCSB Chinese Christian Fellowship, where I have made tons of friends. I was also one of the regulars at the basketball courts at UCSB's Recreation Center (Rec Cen).
Tell us about your summer break:
I did two summer internships at Alibaba DAMO Academy in the Bay Area. During that time, I explored local attractions and dining experiences.
Advice to prospective graduate students:
Enjoy life at UCSB. Take walks around the campus during busy times.
Future Plans...
Where will your research take you next and what are your future Career Goals?
In the Fall of 2022, I will join Rensselaer Polytechnic Institute (RPI) in the Electrical, Computer, and Systems Engineering department as an assistant professor and will continue my career in academia. One of my career goals is that someday I will visit UCSB as a distinguished speaker.