2019 COE Excellence Awards
The College of Engineering honors graduating seniors, outstanding faculty and teaching assistants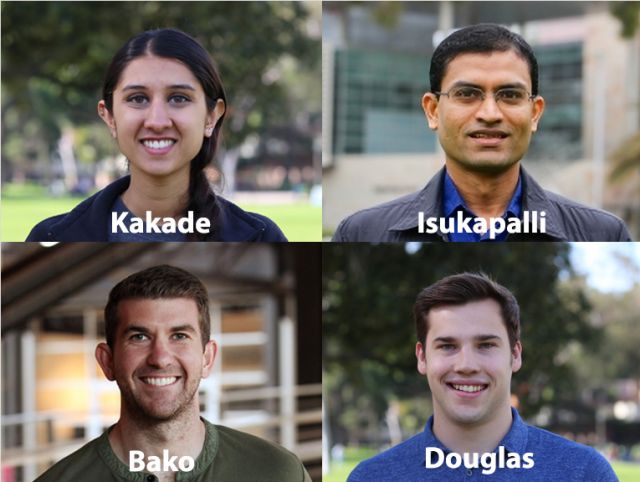 The College of Engineering honors graduating seniors, outstanding faculty and teaching assistants
More than 360 UC Santa Barbara undergraduate students have completed the requirements to earn bachelor's degrees in chemical engineering, computer engineering, computer science, electrical engineering or mechanical engineering during the 2018-19 academic year. They'll all convene Saturday, June 15, for the College of Engineering's 2019 graduation ceremony, where a handful will receive special commendations for outstanding academic performance and service to the university.
CE Outstanding Senior: Sayali Kakade – participated in the ECE 189 Best Capstone project Eternal Flight, which addresses the short-term battery life in unmanned aerial vehicles or drone. Following graduation, Sayali, who completed two summer internships with Google, will begin working for the company as a software engineer.
CE Outstanding Faculty: Dr. Yoga Isukapalli – during the 2018-19 year Dr. Isukapalli was the instructor of CE Senior Capstone (A/B/C); Mobile Embedded Systems; Digital Design Principles; and Sensor & Peripheral Interface Design
CE Outstanding Teaching Assistant: Steve Bako – was the TA for the CS Senior Capstone (A/B) and a member of ECE Prof. Pradeep Sen's group.
As a note, the ECE Outstanding Senior, Kyle Douglas was a team member with Kakade on the Eternal Flight project.
The UCSB Current – "Engineering Excellence" (shortened version from COE News)
COE News – "Engineering Excellence: College of Engineering Salutes Class of 2019" (full article)