Isukapalli: Outstanding CE Faculty
Graduating seniors in every undergraduate degree program in UC Santa Barbara's College of Engineering recognize a faculty member each spring and the Class of 2022's COE Outstanding Faculty in Computer Engineering is Professor Yoga Isukapalli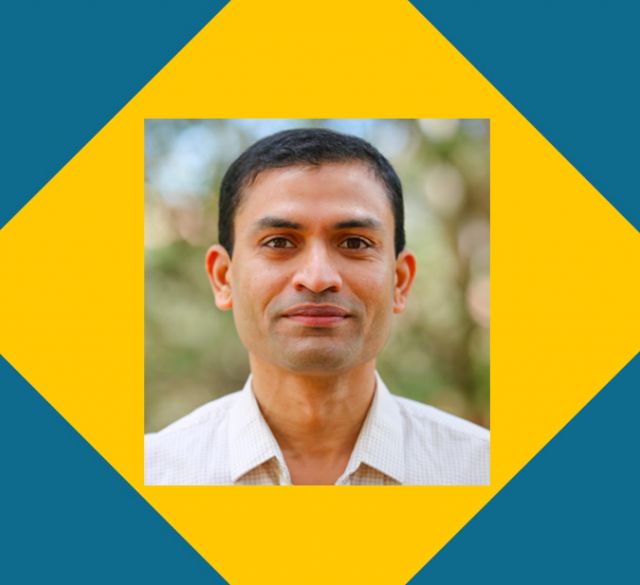 For the fourth year in a row, graduating seniors selected Yoga Isukapalli for the Outstanding Computer Engineering Faculty Award. Isukapalli joined UCSB's Electrical and Computer Engineering Department as a tenure-track teaching professor in winter 2017.
"This award is special to me, and it has a lot of significance because it comes from graduating computer engineering seniors," said Isukapalli, who worked as a staff scientist in the Wi-Fi division at Broadcom, a semiconductor manufacturing company, before joining the faculty at UCSB. "I have taught most of them in many of my classes, and I enjoyed seeing them mature as computer engineers. I am honored that they feel my teaching made an impact on them."
Graduating seniors rose to the challenge during the pandemic, as did Isukapalli. He tried to be flexible and accommodating to their personal circumstances, and he prioritized their learning and well-being, meeting with students, over Zoom and in person, more than usual to address problems. Isukapalli added that the semiconductor shortage impacted all of his embedded-systems courses, including capstone. Department faculty and staff were forced to adjust and find replacement parts, which proved challenging. Since many of his classes had a strong lab component, he had to make several modifications to any part that required equipment from the labs.
"To compensate for the lack of a physical lab, I created lab kits that were relatively cheap for students to buy, and modified all of the lab courses," he said.
Isukapalli, whose previous recognitions include a Distinguished Teaching Award from UCSB's Academic Senate and Northrup Grumman's Excellence in Teaching Award, commended the Class of 2022 for showing great resilience during these difficult times.
"They showed remarkable maturity and a collaborative spirit. I am proud of what they have accomplished, and they should be, too," he said. "I am confident that they are ready to take on new adventures using the technical and life skills they have learned at UCSB."
The UCSB Current "Class of 2022 Selects Outstanding COE Faculty" (full article)
Isukapalli's Instruction Website