S. Lin: Outstanding CE Senior
Every spring, the College of Engineering recognizes the graduating seniors who have the highest cumulative grade point average (GPA) from each degree program. This year's Outstanding Senior in Computer Engineering is Siyu (Steven) Lin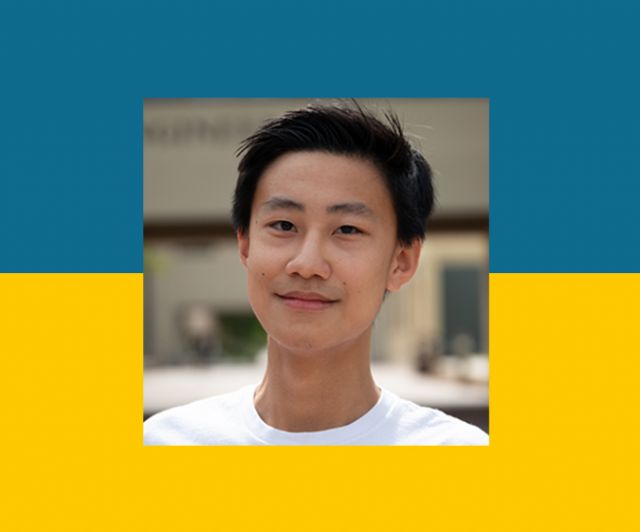 Steven Lin, the 2022 Outstanding Graduate of Computer Engineering, is graduating with highest honors and a 4.0 cumulative GPA. Born and raised in Shanghai, China, Lin said he shares the award with his family and friends, who supported him during some difficult times throughout the pandemic.
"There is no word to describe my delight in receiving this award in recognition of my dedication and hard work," said Lin. "I am extremely proud to graduate from our Computer Engineering Department, which is dedicated to providing students with a diverse and interdisciplinary environment that allows us to discover our own research interests."
As part of his capstone project, Lin conducted optical neural network research with Spencer Smith, an associate professor of electrical and computer engineering. His team built a hybrid structure that combined optical and silicon computations to perform image classification using relatively little energy. He said that the experience strengthened his leadership, communication, and problem-solving skills.
"UCSB engineering provided me with solid fundamental knowledge through both hands-on labs and conceptual work," he said. "Together with the capstone project and research-oriented courses, UCSB has set me up to be a driven and well-rounded student equipped to pursue future innovative research."
Lin will start the PhD program the California Institute of Technology (Caltech) in the fall, where he plans to focus his research on biomedical imaging.
The UCSB Current "Top of Their Class: COE Announces Outstanding Seniors" (full article)
Lin's ECE 189 Senior Project Team: B.A.I. (Optical Neural Network)