5 CE Students – ITC Student Paper Award
Computer Engineering students on the CE Capstone (ECE 189) project team "PIGS" receive a Student Paper Award from the 2023 International Telemetering Conference (ITC)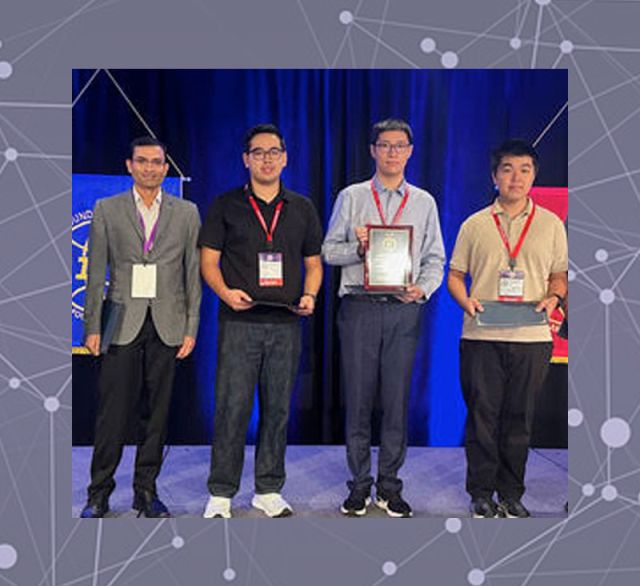 The students Tianrui Hu, Yifan Pan, Anshuman Dash, Matthew Tran and Zhiwen Wu, with the mentorship of Computer Engineering (CE) Capstone course instructor Dr. Yogananda Isukapalli, were recognized for their 2nd place achievement at ITC'23 for the paper "Implementation of A Drone-Based Information Gathering System." The paper, whose authors also include Phil Tokumaru from AeroVironment, Inc. and Isukapalli, was based on the students' 2023 CE Capstone Senior Project "Personal Information Gathering System (PIGS)"
Hu, Pan, and Tran presented the paper at ITC and according to their submission, "The paper demonstrates the implementation of PIGS for information gathering. This system is intended for several specially designed drones, a mobile phone, a base station, and a router. Traditionally in combat situations, humans must risk themselves to gain information and identify potential threats. The PIGS system ensures users gain comprehensive information autonomously, while safe from threats. The operator can use the mobile device to remotely command the drones to obtain information, explore different regions, and perform other information-gathering-related tasks. With 802.11ac Wi-Fi and a lightweight computer vision model, PIGS allows the operator to interface with the drones through high-level commands and receive visual information with optional computer vision analysis. The proposed system offers a safer and more efficient way to gather information in dangerous environments."
Learn about Team PIGS' Computer Engineering Capstone Project

PIGS Project Summary from the CE Capstone course website: Information is invaluable in a combat environment. To address this, our team gives the solution of Overwatch Drones. A drone squad consists of two or more drones to gather information, spot potential risks, and locate users to guard the target's safety. Our project aims to provide functionalities such as auto-following the target, moving to preset locations to check the surroundings, and locate the target and adjust the drone's positions automatically. We also want to provide different ways to control drones. Including auto drive, manual control through android phones, and gesture control. Our first milestone aims to get all desired drone parts, build prototype, and realize basic functionality.

Other related PIGS Project Links:

Professor Isukapalli's Instruction and CE Capstone websites
The International Telemetering Conference (ITC) addresses a wide range of topics important to the telemetry professional. The exhibit areas showcase the latest systems and the technical sessions lay the groundwork for tomorrow's systems. The International Foundation for Telemetering (IFT) sponsors the annual ITC. The foundation is a nonprofit organization dedicated to serving the professional and technical interests of the "Telemetering Community."
ITC'23 was held on October 23-26, 2023 in Las Vegas, NV.
Learn about the ITC Best Student Paper Award

To encourage graduate and undergraduate student participation and to feature excellent works by young scholars, ITC is pleased to award monetary prizes for the best graduate and undergraduate student papers. Student papers can be based upon a Thesis, Capstone project, or other Major Project or Investigation. Papers written and submitted by teams are also encouraged. Papers are considered for awards based on:

Presentation of techniques, processes, software, modified applications, etc., to solve known problems today or in the immediate future.
Conformance with published preparation guidelines.
Demonstration of a completed project or significant progress toward completion of a project.
Creative and innovative approaches to solving known problems.
Explanation and clarification of telemetry and communications processes.
T. Hu, Y. Pan, A. Dash, M. Tran, Z. Wu, P. Tokumaru and Y. Isukapalli, "Implementation of A Drone-Based Information Gathering System," Proceedings, International Telemetering Conference (ITC), Las Vegas, Nevada, Oct 23-26, 2023