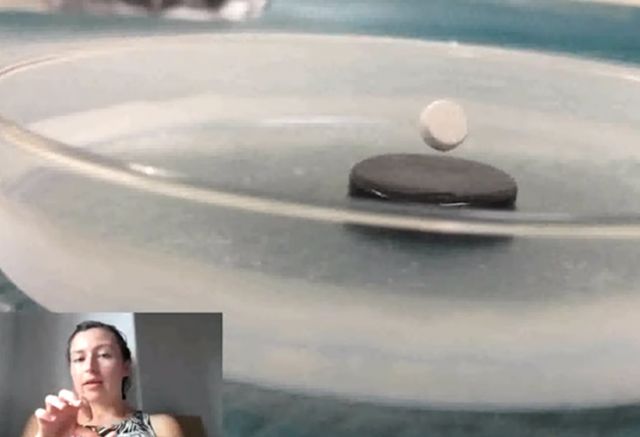 Jennifer Volk – MS/PhD student in CS
In her own words – Interviewed during 2nd year of degree in CS (2021)
About Jennifer
Hometown: Ojai, CA
Previous Degrees: B.S. in Electrical Engineering from UC Santa Cruz
Advisor / Lab: Timothy Sherwood / ArchLab
Hobbies and Interests: I enjoy painting, playing ukulele and violin, and tinkering with embedded electronics
Jennifer's Research
Main Area of Research: Computer Architecture, VLSI, Superconductor Electronics
Research Interests: SFQ Logic, Race Logic, Temporal Computing, Bio-Inspired Computing
Important Conferences: 2020 Int'l Conf. on Architectural Support for Programming Languages and Operating Systems (ASPLOS); 2020 IEEE Electronics and Mobile Communication Conference (IEMCON) – I presented a talk; 2021 (International Symposium on Computer Architecture (ISCA)
Important Awards & Honors: Best presenter in session at IEMCON 2020; IEEE Micro Top Picks 2021
UCSB Student Organizations: Graduate Scholars Program (GSP)
Professional Memberships: Association for Computing Machinery (ACM), Institute of Electrical and Electronics Engineers (IEEE)
Publications: See my Google Scholar profile for my list of publications
Favorite things about
CS Department: The whole department is like a family – supportive, with each world-class faculty member carving out a distinct and interesting research area
UCSB: The campus is uniquely situated between the ocean (with a marvelous view of the Channel Islands) and the mountains – it's the perfect place to get inspired. It's also one of the easiest places to make collaborations happen! The staff support is similarly excellent.
Santa Barbara: Santa Barbara's downtown scene has some of the most beautiful architecture and laid-back style on the California coast
Jennifer and her research
Tell us about your research:
My current research focuses on exploiting quirks in superconducting circuits to facilitate improvements in architectures of the same technology. Lately, I have been hybridizing neuromorphic approaches and superconducting with thresholding logic. I'm always looking for new boundaries to push within the scope of the technology.
How and why did you get into your area of research?
The method and reasons behind why I am pursuing my line of research have evolved since matriculating as a Ph.D. student. I have been interested in quantum physics and devices since my high school and undergraduate years, where I joined an experimental particle physics team called SCIPP at UCSC. It was there that I developed a strong intuition for device physics, which was one of the things that really piqued my interest in research with superconducting electronics. My coursework has expanded my interests incidentally – I have found that the more I am exposed to new perspectives and ideas, the more ideas I have. When I find an idea that can make a connection to my research, I am eager to roll with it.
Why did you select UCSB and CE in regards to your research?
I selected UCSB based on my advisor, whom I met when attending the graduate open house. His approach to research is exploratory and open-ended, which fits well with how I aim to conduct research.
What do you find rewarding about your research?
Firstly, I like to follow hunches toward or stumble upon unique solutions that beat the state-of-the art in my field, or that introduce a way to perform some type of computation more naturally in superconducting than in other technologies. This process tends to involve implementing some really off-the-wall solutions (because the physics is so different from designing with conventional CMOS), so when we find something that works, it can be very gratifying.
Secondly, I greatly enjoy explaining the field I'm researching – superconducting electronics – to those with a limited understanding of it. I maintain a set of slides with some basic information about the technology, and I challenge myself each time to explain it in a way that my audience can retain, within a shorter period of time than when I last explained it.
Thoughts on working in a group research environment:
Working on a small team that is welcoming to collaborations with researchers from diverse backgrounds and with diverse sets of skills can be uniquely rewarding. For example, it can foster new ideas. My advisor is a great example of this – for every idea I generate, he will act as a sounding board, and ask important questions that can lead to new or better ideas.
UCSB Prides itself on its collaborative atmosphere, give some examples of how you collaborate:
Our lab is a neat collection of network links to places like MIT Lincoln Lab, NIST, and LBNL, to name a few. It is also fairly easy to find other students interested in chatting and exchanging ideas. Last summer, I participated in the Research Mentorship Program, where I mentored an exceptional high school student; since then, I have retained my student – he has helped me continue several superconducting research projects and we are planning to publish our results soon.
Academics at UCSB
Strengths of the graduate program:
There are several strengths to note about the UCSB ECE graduate program: (1) the faculty members are supportive, and are willing to support individualistic goals of their students; (2) the staff are generous (last summer, I was able to arrange a superconducting experiment for a project pitch with the help of the staff running the ECE shop); and (3) there is a strong sense of community in the department. Some institutions tend to use exams as opportunities to weed out graduate students from their programs, but at UCSB, at least in my opinion, there is an endorsement that if you put in the time and effort, you will inevitably succeed.
Favorite course:
Professor Behrooz Parhami's course on Computer Arithmetic (ECE252B) is one of my favorites. That was the first virtual course I took during the lockdown, and it was really essential in inspiring me to branch out from my comfort zone and explore brain-inspired design within the context of artificial computing. We converted my term paper from that class into a joint paper afterwards and published it in IEMCON20.
Describe your Graduate Student Researcher (GSR) and/or Teaching Assistant (TA) experiences:
My responsibilities vary from day to day. Sometimes I'm writing code; sometimes I'm testing my circuits or laying out superconducting chip designs; some days researching old designs or neuroscience papers for inspiration; and other days writing papers.
Life as a graduate student
Quality of life as a graduate student and how you balance school, work, social, and family life:
Living in Goleta makes it easy to find opportunities to get outside and be active: no matter where you live, you are minutes away from the beach or the mountains, and the weather is good almost every day. If you have a family or want to get together with friends, you can go on group hikes or bike rides to the beach. If I am not too busy, I like to take a couple of hours for lunch on sunny days and go have a picnic – if I'm by myself, I'll bring a few papers to read; if I'm with a friend, we'll brainstorm new research ideas. I try to take one day off per week, but since COVID started this has been hard to do if I stay home, where I have access to my computer. So if I can take the day off, I'll drive to new places with someone and spend it exploring – Santa Barbara is just a 1-2 hour drive from other interesting places (Solvang, San Luis Obispo/Avila, Ojai, Los Angeles) for day trips. I also set aside a bit of time every day to take walks or exercise.
Balancing school and research is tricky for everyone. I find that segmenting my schedule (doing classwork on Monday/Wednesday, and conducting research the other days) tends to help me compartmentalize each. The key is to not switch back and forth between projects too often, because it ends up taking more time – I like to finish tasks to completion (as long as the other work's deadlines allow) before moving on to the next thing.
What is your social life like?
I am renting a room off-campus in Goleta from a family friend, about a 10 minutes' drive from UCSB, but I have lately been staying with a friend who is about the same distance from campus. Since the initial COVID-19 lockdown, I have been working from home for a longer period of time than I had worked on campus. It's difficult to meet new people and form friendships in this setting, so it helps to have a graduate student roommate that is struggling with the same things.
Tell us about your summer break?
This summer I will be interning at MIT Lincoln Lab. Unfortunately, due to COVID, I will conduct my internship remotely – but if all goes well, I hope to visit their facilities soon.
Advice to prospective graduate students:
It's all too easy to get stressed about the length of your to-do lists, difficult meetings, or looming deadlines, especially early on – when you're trying to balance classwork with research and with home life. So it's important to take a step back sometimes to not get overwhelmed and just reflect on the amazing progress you're making professionally and personally. My favorite piece of advice is something a friend told me: Enjoy the process.
Future Plans...
Where will your research take you next and what are your future Career Goals:
I'm not sure yet where my path will take me, but my current plan is to target academia because it's easy to change direction from there. However, if my internship this summer goes well, I think that joining a national lab might be a great choice.