Semma – CoE Hynes-Wood Award
Every spring, the College of Engineering at UC Santa Barbara bestows four special honors upon graduating seniors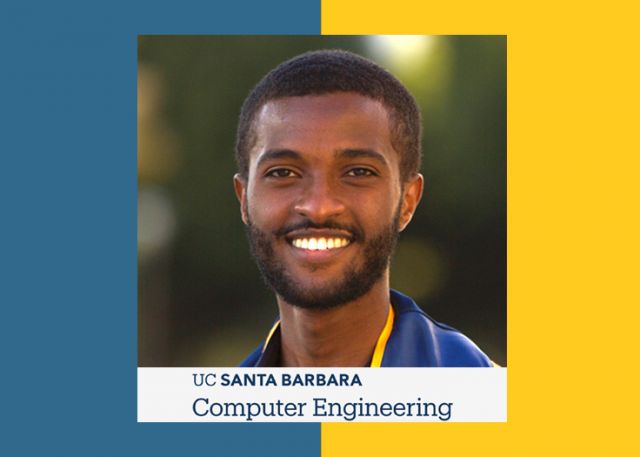 Excerpt from COE News article "CoE Announces Prestigious Student Awards for Class of 2021"
In recognition of his selfless contributions to student activities at UC Santa Barbara, Abel Semma has received the 2021 Hynes-Wood Award. He has served as an officer in the National Society of Black Engineers (NSBE) and has been extremely active in Math/Engineering/ Science Achievement (MESA), an academic success program for pre-college and university students.
"I always believed that, we should strive to leave, whatever it is that we are involved in, better than we found it. This applies to NSBE for me," said Semma, who earned a bachelor's degree in computer engineering. "I had a memorable experience my freshman year at UCSB, but I also wanted to see that the next generation of NSBE members have a better experience than I did, so I was motivated to work on and bring new events to NSBE. Receiving this award means a lot to me because it is a reminder that I achieved my goal."
While holding multiple leadership roles in NSBE, Semma brought in guest speakers, hosted workshops, and found ways to ensure that members stayed engaged and involved during the pandemic. He has interacted with hundreds of K-12 and undergraduate students though the MESA program, serving as an undergraduate mentor to high school students, as well as organizing and participating in several Science and Technology MESA Day events. After graduation, Semma will move to Portland, Oregon, to work as a field applications engineer at Intel.
"Not only did I receive a high-quality education from the College of Engineering, I have also been involved in activities that have helped me develop my soft skills, which I believe is one of the most important factors to succeed in life," said Semma, who also received a University Award of Distinction for his contributions to student life. "I have no doubt that by combining these two, I will be able to accomplish whatever I desire."
The College of Engineering established the Hynes-Wood Award thirty-five years ago in honor of Dr. Jacqueline Hynes, the former assistant dean for academic programs in engineering, and the late Dr. Roger Wood, a beloved electrical and computer engineering professor and former associate dean of academic affairs.
COE News – "CoE Announces Prestigious Student Awards for Class of 2021" (full article)